Matthew COLLYER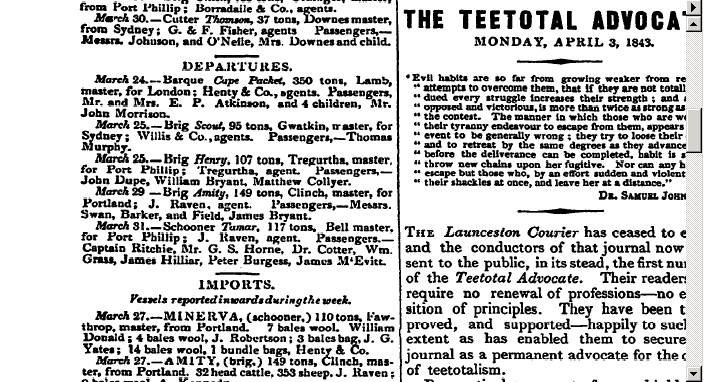 Tasmanian Convict or Pioneer?
Matthew COLLYER arrived in Tasmania in 1835, for reasons that are at this stage unclear. Apparently he was transported, although he doesn't appear in the standard convict lists. He may have been on conditional 'parole' or pardon.

In any case, as a free man and pioneer he married Hannah OAKLEY, an older woman 8 years his senior, she was 33 and he married aged 25. It is possible however that being a larrikin of sorts he had lied about his age! 

They had 2 children, Emma who sadly died aged 2 and Elizabeth. 

His marriage to Hannah was short lived and he travelled to the mainland and into NSW. According to the Launceston Courier he boarded 'Henry' for Port Phillip in 1843. (source) Somewhere along the way he become a 'changed man' and was baptised into the Mormon Church by a man named James WALL : 

------------------------------------------
James Wall remains the mystery figure of early Australian Church history. It is possible that he was another British immigrant like Brother [Andrew] Anderson, baptized and ordained to the Melchizedek Priesthood before migrating to Australia. Alternatively, he may have been converted by either Elder [William] Barratt or Brother Anderson.

The full extent of his missionary work is not known, but in November 1851, just weeks after Elders [John] Murdock and [Charles] Wandell arrived in Sydney, a man named Matthew Collyer turned up at one of their meetings. He said that he had been baptized in Australia by an Elder James Wall in 1844.[Journal of John Murdock, Church Historical Department]

Marjorie Newton,
'Pioneering the Gospel in Australia'
Ensign, October 1986, p.34
------------------------------------------

It is believed he shortly gave the church up and married Catharine RYAN, an irish born girl, in 1852.  By this time, his other daughter Elizabeth had already travelled to the mainland and married.. perhaps she had followed her fathers footsteps?

Catharine and Matthew had several children, one named Sahra Elizabeth COLLYER whom my family is descended from.